I was up early this morning (due to the trash truck! Thanks) and my first thought was to check out my Bloglovin' page. Have you gotten used to doing that instead of heading to Google Reader? Lots of goodies I missed in my evening hours (I had to take a break some time). There is a linky party hosted by *Bunting, Books and Bainbridge* that has you sharing some of the
Fabulous Feedback
you have received at your TPT or TN stores.
And if that doesn't sound intriguing just wait. So remember that fabulous feedback you want to share, what about the "ask a question" section? Have you ever ventured there? I have several times, each time a little less nervous than before. only because I know how busy the TPT sellers are and I'm the shy fan from afar who never really speaks up. So each time I ask a question, I get bolder. Anywho, on my travels in blogland and TPT I found Sarah's First Grade Snippets, which by the way I LOVE!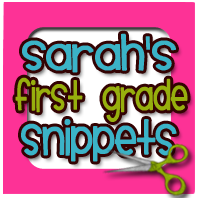 On her TPT store she has writing and reading rubrics for 1st and 2nd grade. I love the layout and each point that the kids are graded on.
So I fell in love and happened to search her store for some Kindergarten rubrics. I didn't see any, I became bold and headed over to the "ask a question" section. I just asked if she was thinking about making any Kindergarten rubrics, I know she is first grade, but it couldn't hurt to ask, right? She quickly responded to my question (I got an email) and asked for my feedback to help her create them. Me??? Ummm, ok. And within a couple days (I mean like 2 days!) she created Kindergarten's own rubrics!!! She's amazing!
Kindergarten teachers, we now have something concrete that we can use to score our kids writing!!
And if you get the rest of your team on board, it can be for the whole grade level! I am so excited to share this with my team.
Head on over to Sarah's First Grade Snippets to see how you can get the
Kindergarten Writing Rubrics
for your class. While there, check out some of her other great posts! Thanks Sarah for this wonderful writing addition for Kindergarten teachers everywhere!
I am going to forgo the blog etiquette for today and post more than once. I just think this wonderful addition deserves a solo post.:) Make sure to leave Sarah a comment
WHEN
you pick up your set of Kindergarten Rubrics at her store. And as of this morning, 8:30am EST, they were still on sale for $2.50!! Hurry, speed walk, no RUN over to
Sarah's First Grade Snippet
s so you can see how to get your very own set! Enjoy!